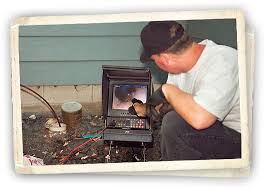 Emergency sewer repair can be intimidating for homeowners. It has the reputation of being an expensive service that can put a huge dent in your checking account balance.  Luckily, there are several steps you can take to prevent emergency sewer repair in your home.
Schedule a Sewer Line Inspection
One of the easiest things you can do to prevent unexpected sewer problems is to call a plumber in South Gate, CA, and schedule a sewer line inspection. An inspection is great for any home, but if you live in a house that is getting up there in age (40 years or older) this procedure can be very beneficial. Inspections are designed to catch minor problems before they erupt into major sewer line repair.
During the inspection, your plumber will use a drain inspection camera to visually examine the condition of your main line. You and the plumber will view the tape together and be able to see potential problems like clogs, cracked piping, and misaligned pipes. These are issues that can easily be corrected before they cause expensive problems.
Schedule Sewer Drain Cleaning
Typically, we think of drain cleaning for secondary pipes that connect to interior fixtures. While these pipes benefit from drain cleaning, a home's sewer line can benefit from this service too. Sewer lines handle a lot of waste throughout the day. After years of operation, it's not surprising that debris can build up, coat the sides, and create blockages. The longer an obstruction remains in the pipe, the greater the chances are that the pipe can crack under the pressure.
Don't Wait to Call for Emergency Sewer Repair
If you do end up needing emergency sewer repair in South Gate, your local plumber at South Gate Action Plumber & Drain can provide you with cost-effective solutions. Working with a plumbing service that guarantees its work and delivers high-quality repairs is the best way to get the most value out of sewer and drain repair services.